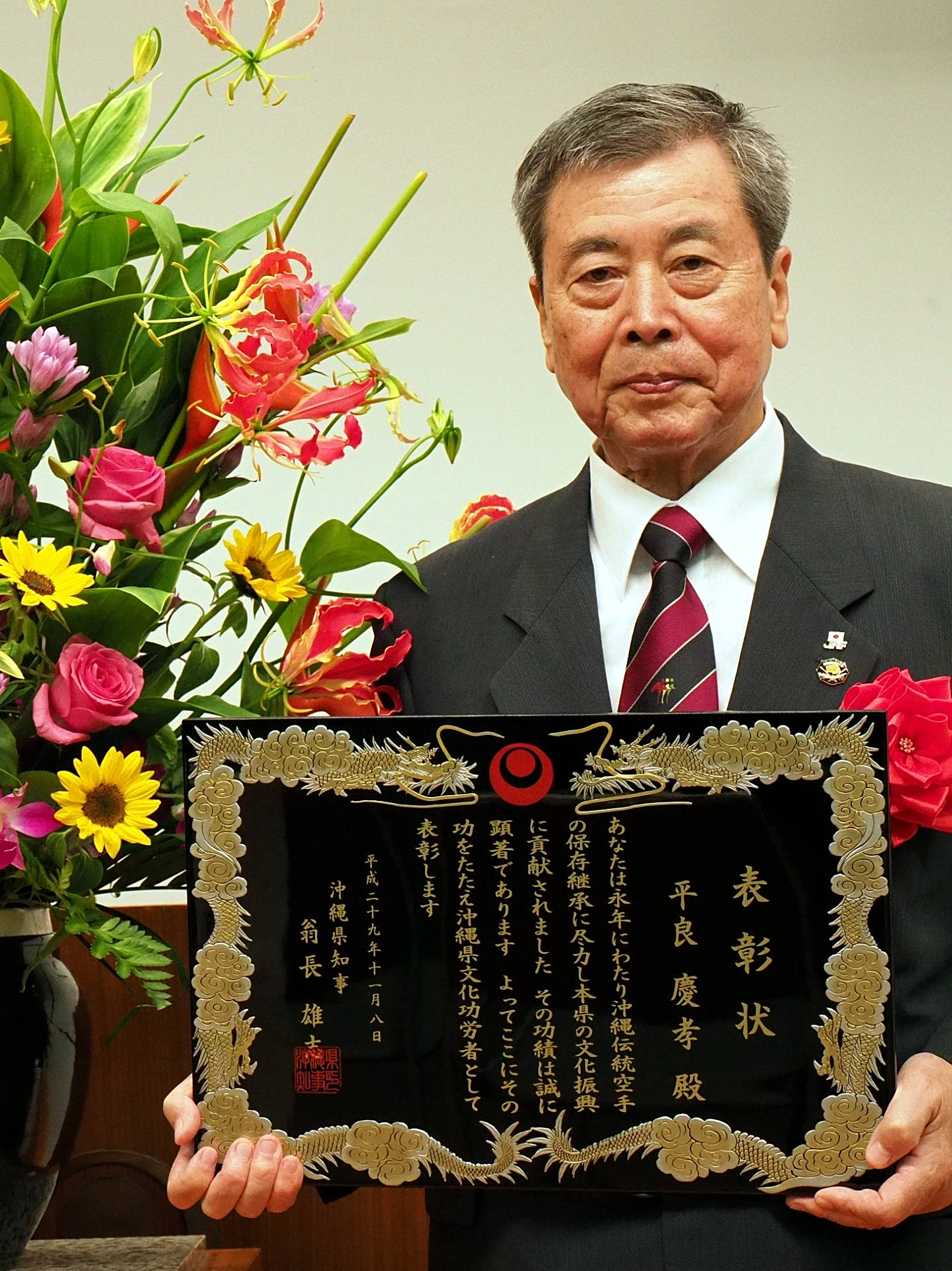 European seminars 2018
Seminar with Arakaki Toshimitsu, Hanshi 10th Dan, in Germany in May.
Seminar with Ole-Bjørn Tuftedal, Kyoshi 7th Dan, in Ireland in June-July.
The annual European Taikai in Madrid in October.
Please see the Seminars page for more information.
News from the WMKA headquarters in Okinawa
Yoshitaka Taira, Hanshi, appointed president of the Okinawa Prefectural Karate-Do Federation.
Quotation from Okinawa Karate News:

On April 15, 2018, the General Assembly of the Okinawa Prefectural Karate-Do
Federation, also known as Kenkuren, was held. Matsubayashi-ryu Taira Yoshitaka
sensei was appointed as the new president and Goju-ryu Takara Seigo sensei
become the chairman of the board of directors, in Japanese rijicho.

After Nagamine Shoshin sensei founder of Matsubayashi-ryu serving for six
years as the president from the establishment in 1981, it has been 32 years
that presidents have come from Shorin-ryu and Goju-ryu.

Born in Ogimi Village in 1943, Taira sensei studied under masters Shima Masao
and Nagamine Shoshin before opening his dojo in 1995. He will certainly
continue preserving the philosophy of the Kenkuren which is based on the
preservation of Okinawa Karate-do, the healthy development of young people,
and the improvement of competitive skills.

Yoshitaka Taira, Hanshi, President of the WMKA, was awarded the prestigious Cultural Commendation from the Prefecture of Okinawa.

This commendation was awarded for his cultural contribution in the field of karate and kobujutsu. He received the price at a ceremony in the Prefecture building November 8, 2017. Here is an article from the Okinawan Times (in Japanese).
The Okinawan Karate Federation hosted a party in his honour November 18, 2017.
Other news
European seminar 2017 with President Taira, Hanshi 10th Dan, in Bergen, Norway

The seminar was arranged September 25 to October 1 in Bergen, Norway.
New dojos
Shorin-ryu Karate Groningen of Andreas Aleman, The Netherlands.