This is the time to find and join your local Matsubayashi-ryu dojo
With the summer holidays being over, the EMKA invites everyone who has been considering taking up karate training, to get in touch with your local dojo.
In Europe the style has member clubs in many countries. Check the Dojo listing page for contact information.

Traditional Okinawan karate is not a business, but a way to train in the spirit of friendship and mutual respect.

The EMKA is the European branch of the world wide organization of Matsubayashi-ryu, WMKA. Only the dojos listed on our web site are true members, certified to our high standards.
European seminars 2023
Please see the Seminars page for more information.

News from the WMKA headquarters in Okinawa
The Monument of Honour Celebration Event for Founder O'Sensei Nagamine Shoshin will be held in Okinawa in 2024
A message from President Taira Yoshitaka, Hanshi, announces that the celebration event will be held in Okinawa 2024 on November 1, to November 3.
This is an occasion all members of the WMKA have been looking forward to. Once again we will be able to meet and practice together, learn from our masters, meet new and old friends and celebrate in the spirit of our style and its founder.

Everyone who has visited Okinawa knows that this is an occasion not to be missed, so start planning and preparing!

Read the full message with the schedule and venues here.

New Overseas Manager in Okinawa from April 2023
After serving the Matsubayashi-ryu community from right after the sudden passing away of Soke Takayoshi Nagamine on April 25,2012 (with a pause from 2015), Mr Riki Nomura now has retired and Mr Daichi Sakamoto carries on this important function as a link between Okinawa and our overseas members.
The EMKA gives heartfelt thanks to Mr Nomura for his efforts and very friendly help, as well as for how he has given us valuable insights into various parts of Okinawan tradition and culture! Mediating between different cultures, languages and traditions is complex and demanding - often significantly more than one would think.
Some of us have already had the pleasure of getting to know Mr Sakamoto, in the Taira dojo and in video seminars during the difficult period when travel had to be restricted. We welcome him to this important post and look forward to cooperating!
Please find the full announcement here. It includes interesting thoughts and comments from them both.
New year greeting 2023 from President Taira Yoshitaka, Hanshi
President Taira sends his best wishes to all WMKA members for 2023 (

Reiwa 5). In August last year, Okinawa marked the 50th anniversary since its reversion to Japan from U.S. rule. Okinawa Prefecture gathered karateka from all over the world and increased the awareness of

Okinawa's role as the birthplace of karate.

President Taira announced that we are planning to hold a "Memorial Monument Erection Commemorative Festival" (tentative name) sometime in the Autumn of 2024! Every WMKA member and dojo should start planning for this great event!

The greeting also includes an interesting article by Riki Nomura san, the WMKA overseas manager, on the Japanese tradition of New Year's Cards (

Nengajo

) with many illustrations.

Read the full greeting from the President here.

The Annual Autumn Dan Evaluation Test on November 20th 2022 in Okinawa.
Uplifting news from Okinawa to end 2022 on a positive note!
Riki Nomura san, the WMKA overseas manager in Okinawa, sent us this report from The Annual Autumn Dan Evaluation Test.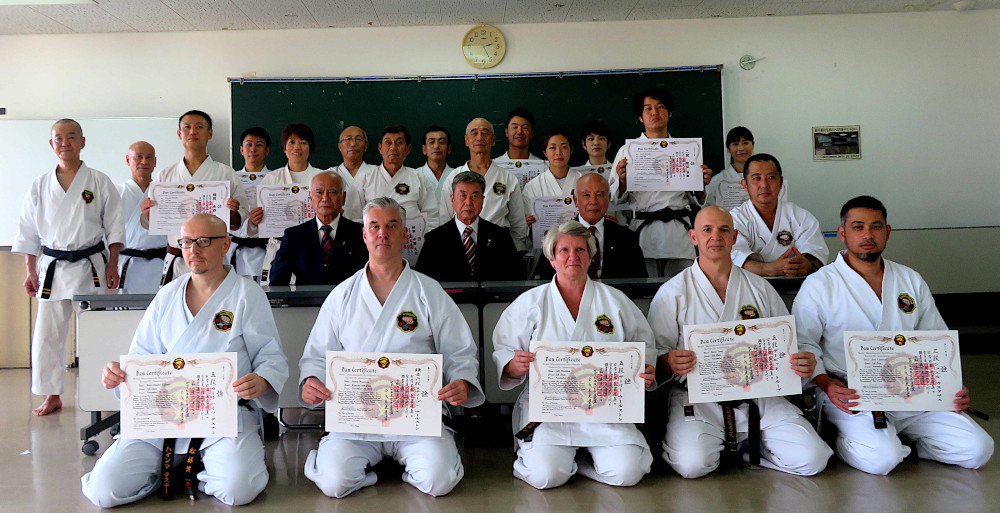 There were five participants from overseas: three from England, one from Germany and one from the USA, and twelve participants came from mainland Japan.
We congratulate all participants for having achieved new ranks after dedication and hard work! The European members taking part were: Karl-Heinz Tessner 5th dan, Steven Woolston Renshi 6th dan, Sally Woolston 5th dan and Joel Castasus 3rd dan.
Read more about the test, all the participants and find more pictures in the full article from Nomura san.
Report from
The 2nd Okinawa Karate World Tournament 2022
Riki Nomura san, the WMKA overseas manager in Okinawa, reports from The 2nd Okinawa Karate World Tournament.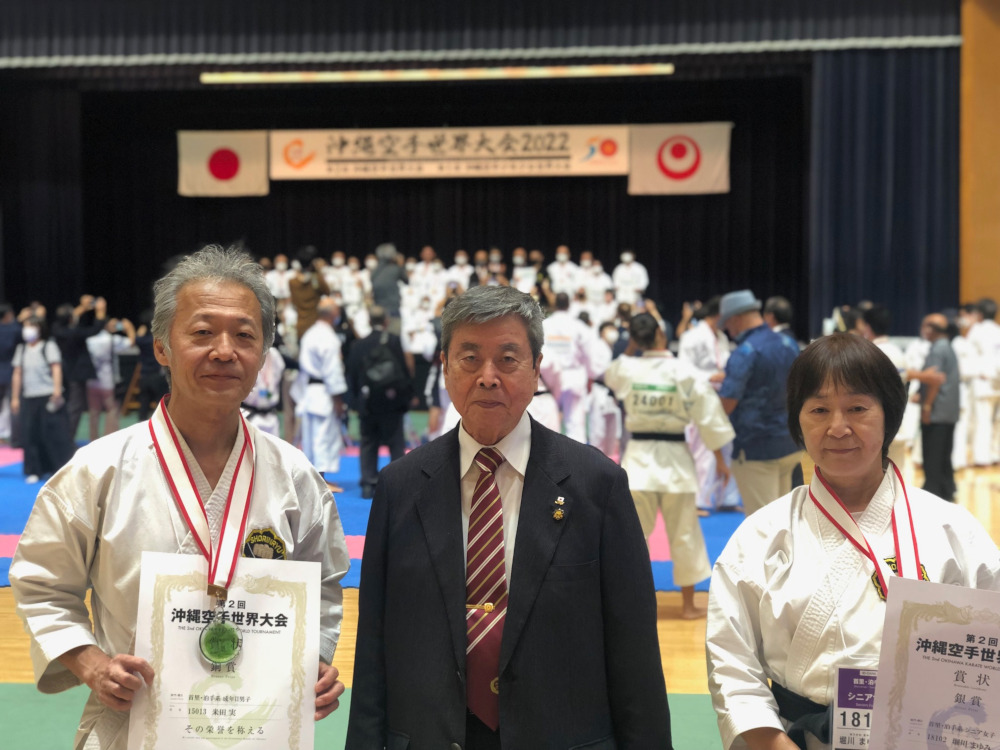 We are happy to congratulate our two medal winners: Ms Mayumi Horikawa Renshi 6th dan from Okinawa, Silver medal, and Mr Minoru Yoneda 5th dan from Osaka, Bronze medal. Here with President Taira.
Please note: The Okinawa government wants to regularize The Okinawa Karate World Tournament with the Winter Olympic year. This means we all may have a chance to join the future events and seminars!
Announcing The 2nd Okinawa Karate World Tournament 2022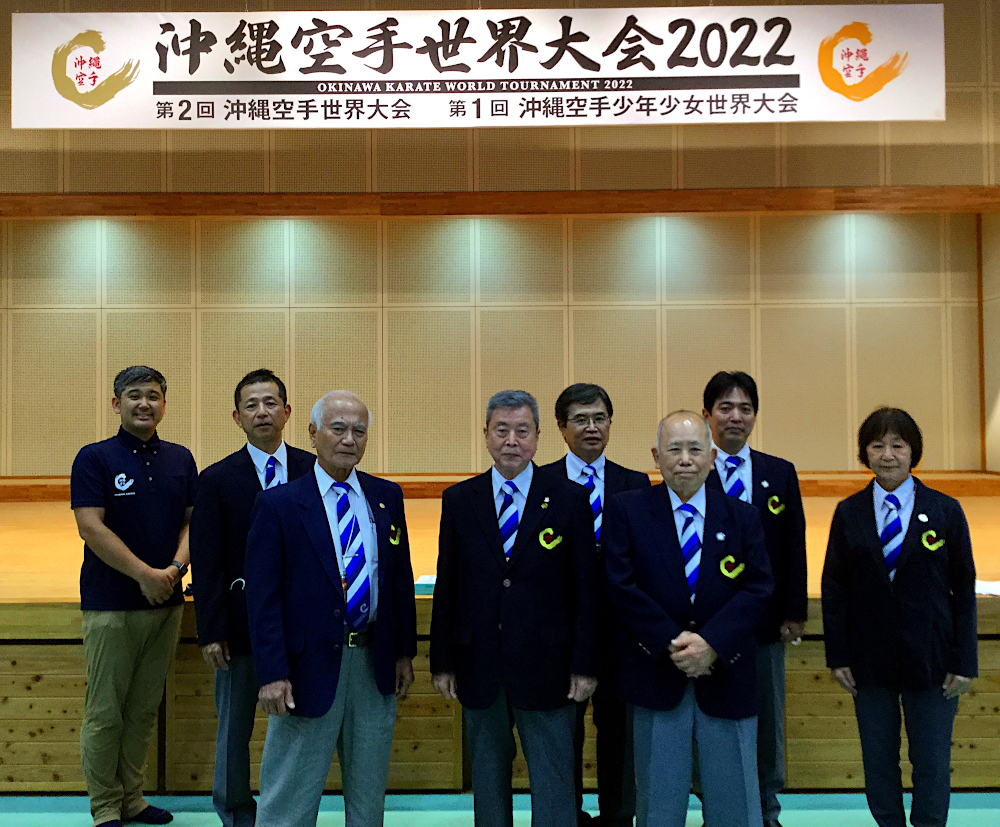 A message from Riki Nomura san, the WMKA overseas manager in Okinawa, informs us that the 2nd "Okinawa Karate World Tournament" is planned for August 1st to 9th and consists of two parts: "Karate Tournament (Kata / form)" and "Karate Seminar". The contents may be changed, or it may be cancelled or postponed based on the COVID-19 situation.
The WMKA Okinawa Headquarters will send 12 personnel including president Taira and vice president Arakaki to the Expert Committees as Seminar instructors and Judges or staff. Ms. Mayumi Horikawa, Renshi 6th Dan, won Okinawan Preliminary Rounds and will attend the Main Tournament as one of three participants from Okinawa Adult Female Senior in August.
The Kata tournament is organized in five categories after the three main Karate-kei (Ryuha) plus two Kobudo (Sai and Bo). These five categories are divided in four age groups each for female and male participants.
The Karate Seminars will be run by 28 Karate and Kobudo instructors from all Okinawa Karate & Kobudo organizations.
New year greeting 2022 from President Taira Yoshitaka, Hanshi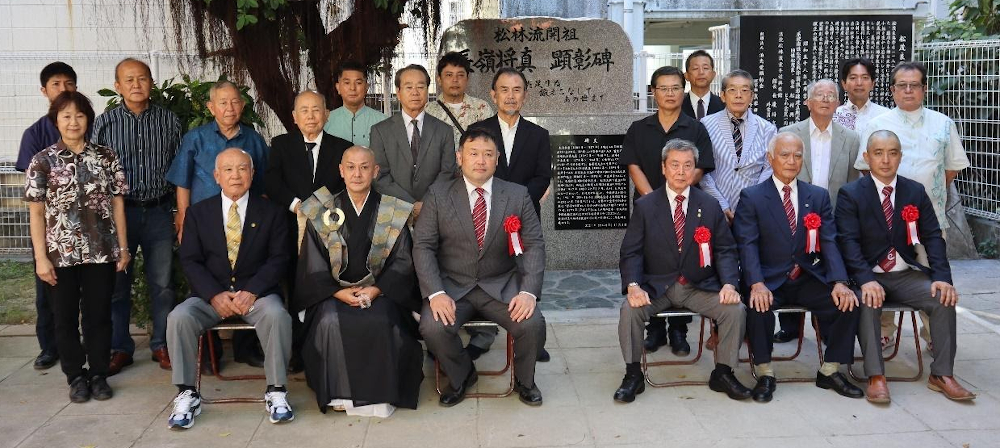 President Taira congratulates all WMKA members around the world for the fact that we could erect the Memorial Monument for Founder Shoshin Nagamine last year. A dream come true! The monument is located in Tomari district in Naha City where O'Sensei Nagamine was born on July 15, 1907. The Monument stands side by side with the Monument for Matsumora Kosaku, known as "Restorer of Tumai-di" (Tomari-te).
Although a small island, Okinawa is the birth place and home of the peaceful self-defence art "Te" that has evolved and spread to the whole world, regardless of age, gender, nationality, race, thoughts or religion.
President Taira covers how the Covid-19 pandemic continues to affect our lives, both globally and for the WMKA.
Referring to the motto "There is no night that doesn't dawn", President Taira expresses his hope that today's step by step will lead to a brighter future. We are planning to invite WMKA members widely to celebrate the erection of the monument of honour to the founder Shoshin Nagamine Sensei after the COVID-19 disaster has ended or is under control.
The message also contains photos from the unveiling of the monument.

Read his full message here.
Taira Yoshitaka, Hanshi, appointed president of the Okinawa Prefectural Karate-Do Federation.
Quotation from Okinawa Karate News:

On April 15, 2018, the General Assembly of the Okinawa Prefectural Karate-Do
Federation, also known as Kenkuren, was held. Matsubayashi-ryu Taira Yoshitaka
sensei was appointed as the new president and Goju-ryu Takara Seigo sensei
become the chairman of the board of directors, in Japanese rijicho.

After Nagamine Shoshin sensei founder of Matsubayashi-ryu serving for six
years as the president from the establishment in 1981, it has been 32 years
that presidents have come from Shorin-ryu and Goju-ryu.

Born in Ogimi Village in 1943, Taira sensei studied under masters Shima Masao
and Nagamine Shoshin before opening his dojo in 1995. He will certainly
continue preserving the philosophy of the Kenkuren which is based on the
preservation of Okinawa Karate-do, the healthy development of young people,
and the improvement of competitive skills.

Taira Yoshitaka, Hanshi, President of the WMKA, was awarded the prestigious Cultural Commendation from the Prefecture of Okinawa.

This commendation was awarded for his cultural contribution in the field of karate and kobujutsu. He received the price at a ceremony in the Prefecture building November 8, 2017. Here is an article from the Okinawan Times (in Japanese).
The Okinawan Karate Federation hosted a party in his honour November 18, 2017.
New European dojos
We are pleased to announce recent European additions to the EMKA/WMKA:


Matsubayashi-Ryu Dojo Berlin of David Quaglia, in Berlin, Germany.




Matsubayashi-Ryu Dojo Bochum of Ralf Budde, in Bochum, Germany.




Please see the Dojo listing page for more information.
Other news